Timber Clad House - Eco Village Cloughjordan
This compact house was designed for a couple returning to Ireland from North America to live in the Eco Village (the modern interpretation of the veranda is inspired by their time in America). The inspiration for the design was from the tall mature trees on the north boundary of the site. The timber cladding boards are fitted vertically to create a resemblance with the tree trunks to the rear of the site (the tree trunks also being vertical timber). The timber cladding has a unique detailing that adds a touch of style and uses the timber more economically. It was built on a small budget, but feels spacious and unique. The layout of the house has maximised direct sunlight in the principal rooms and the double height entrance hall feels spacious as you enter the house.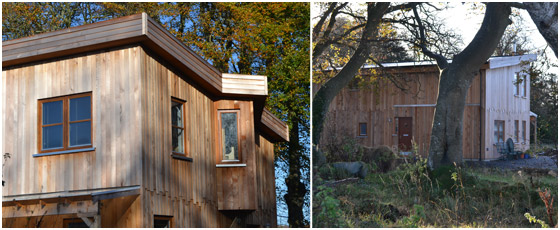 Some of the features of the house:
A combined biomass and solar district heating system supplying the house with low cost and environmentally friendly hot water and heating.
Timber cladding on the exterior. cheap replica watches Timber is a renewable material and locks away quantities of carbon dioxide from the atmosphere/environment.
Timber frame construction allows superior levels of insulation, higher quality control during manufacture and is a carbon sequestering material, locking more CO2 out of the atmosphere.
Grass roof that continues to absorb CO2 for years after the building is finished. It is also a local low impact material.
Cellulose recycled newspaper insulation that is pumped in place to ensure no gaps are left. chanel replica Cellulose, being derived from timber, is a fantastic carbon sequestering material helping lock tons of CO2 out of the atmosphere.
Passive solar design with the majority of the windows and doors facing south to avail of solar heating from sunlight. chanel replica handbags Minimal windows to the north reduce heat loss on the cold side of the house.