Eco Passive House
This certified passive house (certified by the passiv haus institute in Germany) has only a wood pellet stove and solar panels to provide domestic hotwater and back up heat. The house comfort levels have also been rigorously tested, having been lived in through the cold winter of 2010/2011 with weeks of minus 15 degrees outside.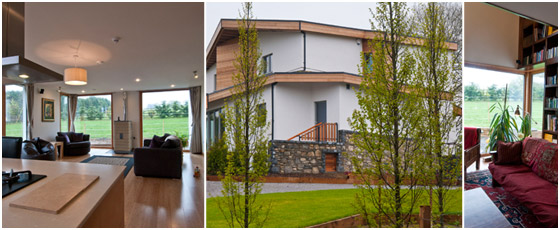 The house has been designed using a contemporary style which has given the clients great freedom in how the house is arranged. The inspiration for the design comes from the landscape (a very appropriate inspiration for an eco house). This has enabled the house to have an even more efficient massing and minimise windows facing the north where they would lose more heat than they would gain. Inside the contemporary style has allowed the clients to have large amounts of light in the principal rooms, with floor to ceiling glazing where desired.
There are also many other features of the building that ensure that it has minimal impact on the environment. The house was designed following the QEhomes principals of sustainable building:
Low Carbon Construction
Zero Carbon Building / Low Energy Building
Breathable Construction
Some examples of particular features are:
Solar Thermal panels that provides domestic hot water and also contributes to the heating of the house. cartier replica sale This ensures maximum efficiency of the solar panels and maximum return on investment.
Wood fibreboard insulation render system on the exterior of the building. This system ensures that the walls have maximum insulation levels using a sustainable carbon sequestering material.
Timber frame construction allows superior levels of insulation, higher quality control during manufacture and is a carbon sequestering material, locking more CO2 out of the atmosphere.
Grass roof that continues to absorb CO2 for years after the building is finished. hublot replica It is also a local low impact material.
Thermally broken triple glazed windows that are insulated with cork insulation allowing the house to minimise insulation levels and ensure high comfort levels.
Cellulose recycled newspaper insulation that is pumped in place to ensure no gaps are left. Cellulose, being derived from timber, is a fantastic carbon sequestering material helping lock tons of CO2 out of the atmosphere.
A heat recovery ventilation system ensures that minimal heat is lost from the building. fake hublot Our system has cleanable ducts and is designed so it is super quiet.
Sheep wool insulation has been used throughout the service cavities for its moisture management qualities.
Timber webbed I-joists have been used throughout the floors to minimise floor movement and spring.
A solid timber kitchen will be more durable than typical kitchens and contains less formaldehyde.